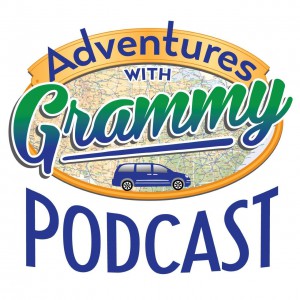 Introduction
The Adventures with Grammy podcast is for grandparents who are on-the-go with their grandchildren. It is for grandparents who want loving relationships with their grandchildren and for parents who want their children to enjoy loving relationships across the generations.
This first podcast is to acquaint you with the format of the upcoming podcast and to give you background as to why I have embarked on this project. To listen to the first podcast, click here.

 Please subscribe so you won't miss an episode

!
---
The Adventures with Grammy Podcast aims to help grandparents answer three important questions:
1. How do I ensure a special place in my grandchild's heart?
2. Where can I take my grandchildren that is budget-friendly, fun and educational for all of us?
3. How can I ensure the time we share will become long-lasting memories my grandchildren will cherish forever?
I have structured the podcasts as seasons. Each episode will feature guest interviews and three segments:
1. The Grandparenting Experience and/or Activities to do with Grandchildren at Home; 
2. Fun Travel Venues by Geographic Region; and
3. Memories of Our Grandparents
The Grandparenting Experience will look at the overall grandparent picture. What is it like to be a grandparent in 2021? How has grandparenting changed since you were a child? How have grandparents changed? What are the expectations for today's grandparents?

 

We will discuss the importance of the grandparent-grandchild relationship. What does the research say? How has COVID-19 impacted grandparenting?

 

How can grandparents influence a child's education? Why is early career exploration important?

 

 We will discuss 

practical suggestions for interacting with grandchildren as well as activities 

grandparents and grandchildren can do together, whether that is face-to-face in person, or from a distance via technology. 

Discussions will include activities such as mindfulness, cooking, Grammy Camp as well as 

skip-generation and multi-generation travel.

 

 
---
Fun Travel Adventures will focus on "stealth" learning and early career exploration … key components of academic success and big dreams. Each season will focus on fun, budget-friendly venues (adventures) within a specific region of the United States. Each adventure will highlight activities grandparents, grandchildren, and parents (if they choose to join in the fun) will enjoy! 

We will begin on the east coast and travel westward.

 
---
Memories of Our Grandparents
BE A GUEST ON THE PODCAST!
What stands out when you think of your grandparents? What makes (made) them special? If you would like to share your memories of your grandparents, send me an e-mail: carolyn@adventureswithgrammy.com. I then will contact you to set up a time to record your memories and let you know when memories of your grandparents will be shared!
---
Season One will focus on the Mid-Atlantic region: Delaware, Maryland, New Jersey, New York, Pennsylvania, Virginia, Washington, D.C., and West Virginia.

 
Season Two will focus on the South Atlantic region: Florida, Georgia, North Carolina, and South Carolina.

 
Season Three will focus on the New England region: Connecticut, Maine, Massachusetts, New Hampshire, Rhode Island and Vermont.

 
Season Four will focus on the East North Central region: Illinois, Indiana, Michigan, Ohio, and Wisconsin.

 
Season Five will focus on the East South Central region: Alabama, Kentucky, Mississippi, and Tennessee.

 
Season Six will focus on the West North Central region: Iowa, Kansas, Minnesota, Missouri, Nebraska, North Dakota and South Dakota.

 
Season Seven 

will focus on the

West South Central region: Arkansas, Louisiana, Oklahoma, and Texas. 

 
Season Eight

 will focus on

the North West Mountain region: Idaho, Montana and Wyoming. 

 
Season Nine 

will focus on

the South West Mountain region: Arizona, Colorado, New Mexico, Nevada and Utah.

 
Season Ten 

will focus on

the Pacific region: Alaska, California, Hawaii, Oregon and Washington.