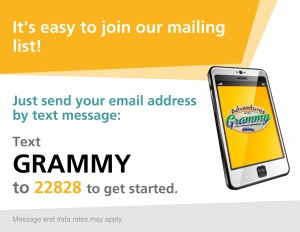 Sign up for the Adventures with Grammy newsletter to discover new children's literature, budget-friendly places to visit, activities to enjoy with your grandkids, book giveaways, and information about the Adventures with Grammy podcast. Every subscriber will receive a link to a free family storytelling journal. Adventures with Grammy will not sell or share your contact information. Click here or join by text message!
Carolyn's 

book

s
 Carolyn's books share a theme: fun activities grandparents can do with their grandchildren to leave legacies of love.
Begin with the family storytelling journals!
"Write it down to pass it down" ™